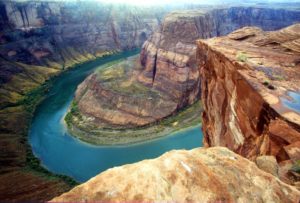 The Colorado River is one of the largest rivers in the United States. It is a primary source of water and generator of power and electricity for over 30 million people in the Southwestern United States. The river stretches over 1,450 miles, weaving through seven U.S. states including many National Parks.
While visiting the Colorado River with her family, Paulette Dotson enjoys helping her children and grandchildren learn about the fascinating history and geography of the river as well as its environmental impacts. Learning about nature and the environment is an essential tool for the future and admiring nature is a wonderful way to spend family vacation time.
Along the river, there are tons of beautiful and historic sites to see including the Grand Canyon, the Hoover Dam, and Lake Mead.
Whitewater Rafting at the Grand Canyon
During family trips to the Colorado River, a favorite activity for Paulette Dotson is whitewater rafting through the bottom of the Grand Canyon. Rafting through the canyon walls is truly a grand experience whether you are hitting the rapids or drifting slowly through the smoother waters.
Located on the border of Arizona and Nevada, about a four hour drive from the Grand Canyon, the Hoover Dam stands wide and tall to better control the strong currents of the Colorado River. When Paulette Dotson and her family visited the dam, they had the opportunity to take a tour through the inner workings of the dam and learn about its societal and technological impacts.
Exploring Lake Mead
As an adventurer and lover of the outdoors, Paulette Dotson found Lake Mead National Recreation Area to be a perfect stop on her family trip. There is tons to see and do inside the park including:
Biking

Hiking

Camping

Fishing

Boating

Sightseeing
The Dotson's have been enjoying these family vacations for many years and the encourage you and your family to do the same.