She has been through their many ups and downs over the years but has always remained a true and devoted supporter of the team. In this post, Paulette Dotson takes a look at the 2017 season and which aspects of the team can most be improved upon for growth and success in the coming 2018 season.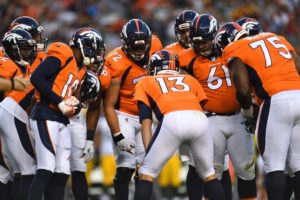 The Denver Broncos started the 2017 season winning three of their first four games, including a 42-17 blowout of the Dallas Cowboys in week two. Since then the wheels have come off, dropping the last six games. The once daunting defense was thrashed by the Philadelphia Eagles and New England Patriots, being outscored 92-39 in those defeats. At 3-7 and going nowhere, the Broncos have much work to do moving forward, but Paulette Dotson is optimistic.
Offensively, the biggest weakness appears to be at quarterback. Neither Trevor Siemian nor Brock Osweiler have shown they can be the long term solution. Siemian has thrown for 1699 yards with nine touchdowns, but has been intercepted ten times. Osweiler has completed only 53 percent of his passes and has also thrown more interceptions than touchdowns.
The receiving core has been solid, but without a competent quarterback, are not putting up big numbers. Damaryius Thomas has 53 receptions, but has found the end zone only three times and is averaging only 11.9 yards per reception, down from 13.9 for his career. Emmanuel Sanders had 79 receptions for over 1000 yards last season, but is quite a bit off that pace with 34 receptions for 448 yards.
The ground game has been a strength, as CJ Anderson and former All-Pro Jamaal Charles are averaging over 4 yards per attempt. Anderson if off a 1000 yard pace, but the Broncos have been forced to abandon the run, playing from behind much of the season.
Defensively, the unit has been a disappointment. Von Miller has been as expected, racking up eight sacks, five additional tackles for a loss and a forced fumble. Brandon Marshall leads the team with 69 tackles and has a defensive touchdown.
The run defense has been a strength, allowing just 3.3 yards per attempt and 85.5 per game. The exception was against the Eagles, who gained over 200 on the ground. The pass defense needs big improvement, allowing a staggering 22 touchdowns and a 98.5 quarterback rating. Lacking the big play, the Broncos have forced only eight turnovers through their first ten games.
On special teams, Riley Dixon is having an excellent season, averaging 45.4 per punt with a 39.9 net and 14 punts inside the 20. Brandon McManus has come on after struggling early, but it still hitting only 73 percent of his kicks overall and 50 percent from 40 yards and out.
Looking forward, the Denver Broncos need to find an answer at quarterback either through free agency or the draft. They also need to find some big play makers on the defensive side of the ball, particularly in the secondary, which has been scorched much of the season.
While this season may be lost, the Broncos can still play for pride, improve in all aspects and come out strong in 2018.
For more insights about the Denver Broncos, be sure to connect with Paulette Dotson on Twitter and Quora.